The Ship's History
The USS Partridge was a Lapwing class minesweeper built in 1918. The ship and her crew served with distinction during World War II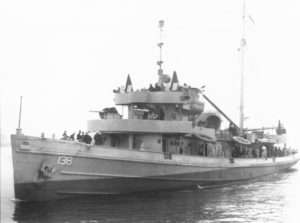 performing salvage operations and towing duties in the Caribbean, along the east coast of the United States and in the English Channel during the D-Day invasion.
The Partridge saved equipment and lives during the German submarine campaign to disrupt shipping. Earning the name 'The Mighty P' during salvages operation for the SS Uniwaleco and Lihue among others, the crew performed above and beyond duties that saved lives and, in some cases, towing entire ships to safety.
In December of 1943, the Partridge sailed for Britain performing various towing duties and eventually preparing for the Normandy invasion. During the invasion, the ship rescued a sinking Landing Craft Tank (LCT) and on June 8 took a Whale Unit or Mulberry to be towed to Omaha Beach. About 10 miles from shore at 2 AM on June 11, 1944 the Partridge was torpedoed by a German E-boat killing 35 of the 90 crew members and serious injuring many of the survivors.
About the "Bird Boats"
The Lapwing-class minesweeper, often called the Bird class, was an early "AM-type" oceangoing minesweeper of the United States Navy. Forty-eight ships of the class were commissioned during World War I, and served well into the 1950s. A number were refitted to serve as ocean-going tugs, salvage vessels, seaplane tenders, or submarine rescue ships.
General Statistics
nationality: american
purpose: utility
type: tug
propulsion: steam
date built: 1918
Size
tonnage: 950 grt
dimensions: 57 x 10.97 x 3.05 m
material: steel
Engine & Armament
engine: triple expansion reciprocating steam engine, two Babcock and Wilcox boilers, one shaft, 1 screw
armament: Two 3″ gun mounts and two machine guns
speed: 14 knots
Get alerts on the book publication date and a special offer.